AT&T Phone Number
Call AT&T customer service faster with GetHuman
Current Wait:
28分钟
&nbsp
(16m avg)
Hours: Mon-Fri 8am-6pm EST; best time to call: 8:15am
Get targeted help: Tell us the issue so we get you to right rep, offer relevant tips, reminders & follow-up!
Get to a live person fastest:
输入电话号码,或按1,然后按3,然后按7,然后按0,然后按4,然后按2,再按1,或者每次输入0时按0#。
Reasons customers like you called recently
I call *** to add bridge pay to account and something went wrong. Now I have no service...
Wanted to confirm if the account is canceled
Just recently took advantage of the trade in program to upgrade our family phones. We...
Phone was stolen, so I have a cheap older phone that barley works, and had to go to a s...
Supposed to send me a box and a shipping tag to send my old phone back in and still hav...
Unable to unlock phone even though it's paid off**I have called ** times no one can unl...
Have questions about my bill
Set up *G on new phone
Phone Service Really Slow
My order has been canceled after at&t took my money off my card
I'd like to DECREASE my prepaid data plan from ** GB to what I had a couple months ago...
I have been on hold for at&t adv tech support for *hr and ** min.* Almost certain my i...
Internet bill is wrong. Need to either fix it or change my plan. Have an appointment se...
My land line ph has not wrkd in weeks I've called then I get disconnected, no one calls...
I have moved and need to switch my service to my new address.
See more recent reasons for calling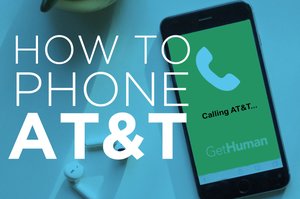 Our Editor's Notes on AT&T's Phone-Based Customer Care
AT&T is a telecommunications, home security, Internet and cable TV provider. As the largest telecommunications company in the world, AT&T maintains a comprehensive customer support system to meet its customer's needs. Many customers strongly prefer to contact AT&T over the phone for a direct conversation with a customer service representative.
Why do People Call AT&T Customer Service?
People call AT&T for many reasons, including:
Starting, changing or canceling services
Purchasing and upgrading devices
Technical support
Scheduling service and installation visits
Learning how to return or drop off devices and equipment
Contacting the Right Division
AT&T offers multiple services, including mobile and landline phone service, security, Internet service, and both satellite and cable television. Some of these services are offered under specific brand names such as DirecTV and U-Verse. When contacting AT&T customer service by phone, make sure that you are calling the number for the division or service you need help with.
Another thing to consider when locating phone numbers for AT&T is that some divisions have different numbers for different types of services.
For example, there may be separate toll-free numbers for new service requests, billing questions and technical support. Each number may also be taking calls during different hours. Checking this information before calling can save you time and frustration.
Tips for Calling AT&T Customer Service
Before calling AT&T customer support, make sure you have your account number handy. You can find it on your bill or via your dashboard on AT&T's website.
Each AT&T service or division has different call center hours, so it's a good idea to check ahead of time so that you know when to call.
AT&T does offer phone support for people with disabilities, including TTY calling for those who are deaf or hearing impaired.
How do People Feel About AT&T Customer Service Calls?
There are numerous reports online from people who are unhappy with AT&T phone-based customer service. Complaints range from long wait times to inaccurate information provided by a representative to promises not kept. There are, however, many other reports from consumers who are pleased with the customer care that they've received from AT&T representatives.
Media Cases
One newspaper documented a case in which a long-time customer of AT&T asked for an extension on his auto-pay due to a family illness that had depleted his checking account. An AT&T phone representative granted the extension, but the account was still charged, resulting in large fees.
In another case, a customer relocated and wanted to transfer her AT&T services. AT&T responded by canceling her current loyalty points, sending her multiple bills for services instead of one consolidated bill. She ended up spending hours of her time on hold with AT&T phone-based customer service, and her issues still were not resolved despite many promises.
What Issues Can AT&T Customer Service Resolve Over the Phone?
AT&T can resolve many consumer issues over the phone, including technical support, billing issues, selecting different packages and starting or ending service. Issues that aren't so easily resolved via phone include problems with malfunctioning and aged equipment and devices. These items will have to be brought or shipped to a service center for repair or replacement.
What Can I do if I am Dissatisfied with AT&T Phone-Based Customer Service?
If you've hung up the phone after a call to AT&T customer service and feel demoralized because your case was not resolved, don't fret. There are other ways off addressing your concerns.
You might first want to write down what happened during your last call. Then, write out a description of your problem and your desired resolution. Having this information in writing can help you explain your situation to other customer service specialists when you talk to them.
From there, consider these options for addressing your concerns:
Try calling AT&T back: In some cases, the training and experience of a customer representative can make a huge difference when it comes to customer satisfaction. If your first call didn't resolve the matter, dial AT&T again. A different representative may be better able to understand your concerns and get your situation resolved.
Consider live chat: AT&T offers live chat through its website and app. If you feel that you express yourself better in writing, or want a written record of your conversation with a customer service representative, live chat might be your best option.
Reach out over social media: AT&T has accounts on several social media platforms. You can connect with a specialist who can research your issue and help you get matters sorted out. As with live chat, you'll also have a record of your conversation, which may be useful if you have to escalate your case.
Visit an AT&T retail store: A face-to-face consultation with a store associate may resolve your issue. In addition, visiting a store may be the best way to get hands-on technical support for equipment or devices.
Customer Number 800-331-0500 - by the Numbers
拨打电话800-331-0500
可以回叫是
真人接听的电话是
您呼叫的部门客户服务和企业账户
呼叫中心时间美国东部时间周一至周五上午8点至下午6点
最佳拨号时间上午8:15
将迷宫导航到人类输入电话号码,或按1,然后按3,然后按7,然后按0,然后按4,然后按2,再按1,或者每次输入0时按0#。
平均等待
当前等待28
排名(电话号码中)1
排名(总体)1
替代方法电话,电子邮件,facebook,网站,twitter
沟通质量63%
帮助质量57%
客户票48,705
信息最后更新Thu Dec 02 2021 10:00:00 GMT+0000 (Coordinated Universal Time)
AT&T's Best Toll-Free/800 Customer Phone Number
这是AT&T的最佳电话号码,实时当前等待中的等待时间,以及用于跳过这些电话线直接转到AT&T座席的工具。该电话号码是AT&T的最佳电话号码,因为像您这样的220,254客户在过去18个月中使用了此联系信息,并向我们提供了反馈。回答800-331-0500的呼叫的客户服务部门解决的常见问题包括Cancel Service, Dispute a Charge, Service Outage, Change Service, Device Support和其他客户服务问题。您要呼叫的AT&T呼叫中心有California, Florida, Georgia, Idaho, Iowa, Louisiana, Missouri, Montana, Oklahoma, Philippines, Texas名员工,并且根据客户而开放Mon-Fri 8am-6pm EST。 AT&T总共有19个电话号码。与AT&T代表交谈的最佳方法并不总是很清楚,因此我们开始根据客户社区的建议来编译此信息。请继续分享您的经验,以便我们继续改进这一免费资源。
Contacting AT&T - by phone or otherwise
尽管800-331-0500是AT&T最好的免费电话号码,但是共有23种方法可以与他们联系。根据其他AT&T个客户的说法,与他们的客户支持团队联系的下一个最佳方法是拨打其新客户部门的800-756-0134电话号码。除了打电话外,寻求帮助的客户的下一个最喜欢的选择是通过800-756-0134来购买新客户。如果您认为此信息不正确或知道与AT&T联系的其他方式,请告知我们,以便我们与其他客户共享。 And you can click here if you want to compare all the contact information we've gathered for AT&T.
What is GetHuman's Relationship to AT&T?
In short, the two companies are not related. GetHuman builds free tools and shares information amongst customers of companies like AT&T. For large companies that includes tools such as our GetHuman Phone, which allows you to call a company but skip the part where you wait on the line listening to their call technology music. We've created these shortcuts and apps to try to help customers like you (and ourselves!) navigate the messy phone menus, hold times, and confusion with customer service, especially with larger companies. And as long as you keep sharing it with your friends and loved ones, we'll keep doing it.